Start a business and grow consistently.
"My 'Growth Ballast', what's that Paul?" I hear you ask.
Firstly, what is ballast? Here's a definition for you:
"ballast:
heavy material, such as gravel, sand, or iron, placed in the bilge of a ship to ensure its stability."
You want business stability, don't you? Of course!
Here is how to get your business to grow with stability.
Your 'Growth Ballast' is a trick only a handful of business owners use.
Clever entrepreneurs take advantage of the imaginary 'ups and downs' in the business world. They've recognised these 'ups and downs' are a great time to expand their customer base.
What is Market Share?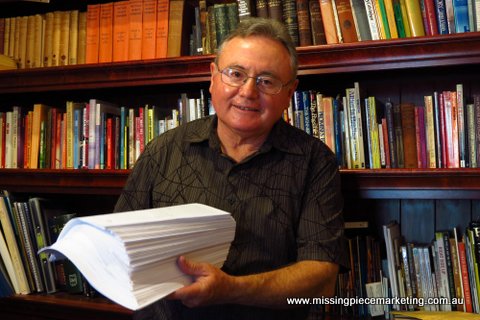 I have surveyed 1,000 business owners. Less than 10 have become wealthy by this contrary investing. I don't mean investing in the Stock Exchange. I mean investing in their 'market share'
'Market share'?
No matter what business you are in, there is only a limited number of 'ready buyers' at any one time.
Let's say you are in the swimming pool business. You have a total potential market share inside a 50 kilometre radius. During Spring there might be 1,000 households, who are ready to install a pool. This 'pool of work' (pardon the pun) is shared among the 50 pool builders in your area. You know you will build 10 new pools and a few others will build 100 pools. Those larger competitors have 10 times your market share.
This larger 'market share' is usually due to
the length of time they've been in the industry
their reputation and
how much they spend on regular marketing / advertising. They are staying in people's faces, ready for when they need a pool builder.
Have you heard the advertisements from pool builders during late Winter early Spring? These firms are short on work (things feel quiet) because people don't think about swimming in the Winter (unless there's an incentive).
The same illustration holds true if you are an accountant, personal trainer or plumber. You hold a small share of the total potential market demand for what you do at any particular time.
When 'things are a bit quiet', most businesses look around for ways to cut back their spending.
Most cut back on their advertising (or the hold they have on their market share).
Silly idea.
These businesses let go of the public visibility they have, by hiding from view. This makes them vulnerable to losing market share to a smart trader like you.
'Growth Ballast'
Your 'Growth Ballast' is the cash you have, for extra advertising/marketing. Promote when people think 'times are tough'.
This is your 'rainy day' money for growth.
When your competitors let go of advertising, you can do what they are not doing.
You can INCREASE your advertising/marketing spend and grab market share off them.
Smart Idea?
How much will you have to put aside to make this system work?
It all depends on your industry and the stage you are at in business. Are you a pool builder? You know that spending 10% of your turnover gives you and your staff enough to keep going. You may consider squirreling away an extra 2-3% of your turnover. Put it in a separate account so you will be ready to make a promotional splash (sorry – these puns just keep coming).
Boost your advertising spend when others in your industry, are cutting back on theirs.
Your competitors will be grabbing for their towels after getting wet.
It works well.
This timely investment of your 'Growth Ballast' will go on to pay dividends for years. (You should be asking for referrals at the end of each new job. Check out how, click/tap here)
---
Don't worry about getting lost. Click here to go back to 'The six 'B's of consistent business' resource page.
The 'Six 'B's' of consistent business' links are here: