PERSPECTIVE
The story is told of a young man whose father was hanged for murder.
This young man is filling in a Life Insurance Proposal form. After the usual questions about his own health, and then hereditary conditions, came the question for information about the causes of death of his parents. He answered, "Mother died of pneumonia. Father was taking part in a public function when the platform gave way"
There are obvious benefits to an imaginative view of things.
Hope you see the down side of life this way,
Cheers,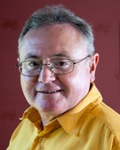 Paul Johnson
paul@missingpiecemarketing.com.au
Boosting your local work without advertising.